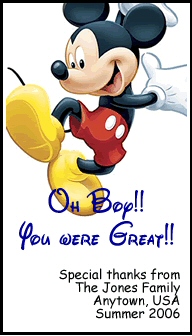 What are CM Appreciation Cards?
Cast Member Appreciation Cards are a small, personalized way to return just a bit of that Disney Magic to the Cast Members that work so hard to make our trips unforgettable.
By downloading, personalizing, printing and then distributing the cards you are sharing the magic back with the very people that create it day in and day out. When a Cast Member (CM) does something that adds a touch of magic to your day, why not show them how much it is appreciated!
And don't forget to let Disney know directly how much you appreciate their cast members! Stopping by Guest Services or sending a letter of appreciation telling how a CM made your trip special can be the ultimate way to share magic with a deserving CM!

How to download, edit and print the NEW CM Appreciation Cards
You will need Microsoft Word 2003 to be able to edit these cards. Earlier versions of Word MAY work, but could have formatting issues.


Cards have been grouped by theme (Classic Characters, Princess, etc...) and on each themed page you will find 10 cards ready to download as a set.


The best way to download and edit a group of cards is to right click on and save the cards on your computer using 'Save Target As' or 'Save Link As' (depending on your browser). Files are quite large and may take several minutes to download.


Now open the downloaded '.doc' file in Microsoft Word 2003 or later. Earlier versions of Word MAY work, but could have formatting issues. Microsoft Works or WordPad will NOT work correctly.


Now you can edit in your own Family information for each card. When you click on the Family Information you wish to change a selection box will surround the text. Highlight the text you wish to change and then enter the desired text. Text may be rotated 90 degrees but should still edit as expected.
Here are a couple examples of what to expect: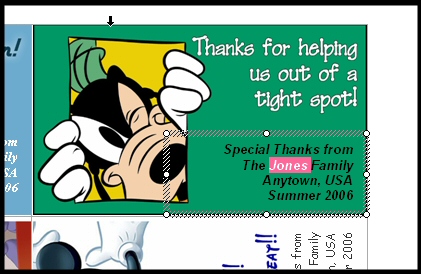 **Shows selected text with Jones highlighted for editing
or rotated text that looks like this: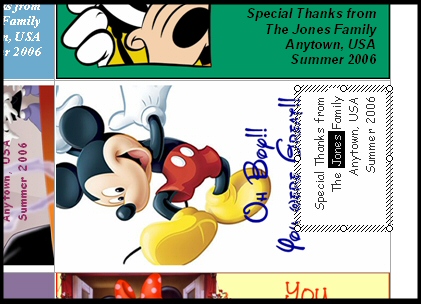 **Shows rotated selected text with Jones highlighted for editing
After you have edited the family information on all 10 cards remember to save your changes.


Load standard 10 card per sheet business card stock and print.


Some known stock that should print well includes Avery 25371, 26550, 26551, 27870, 27871, 27876, 27881, 27882, 28371, 28873, 28876, 28877, 5371, 5372, 5376, 5377, 5871, 5872, 5873, 5876, 5877, 5878, 5911, 6235, 8271, 8371, 8372, 8374, 8376, 8377, 8379, 8471, 8476, 8571, 8871, 8872, 8873, 8876, 8877, 8878, 8879 - but most any 8.5 x 11 10 business card stock should work.


That's it! Your cards should be ready to go! For an extra special finished look, you might wish to laminate them, but it certainly isn't required!


If you are still having problems, please stop by our Community Forum where you can ask for a bit of personalized help.


**NEW** - Don't have Microsoft Word? Then just download the PDF versions of the cards, print them out and the manually add in your personalization!

**Special Thanks to Miss Bianca, Frogman, Moley, Robin
and everyone for sharing these wonderful cards!
Thanks for your interest!